The perfect gi doesn't exist, but the perfect gi for you does.
For many people who start training BJJ many things feel awkward. The positions are uncomfortable and at times really strange. You don't quite have the understanding and control of your body needed to do a lot of the moves, and everything feels even harder to do when you're wearing an oversized gi, which is the case for many people who have just started training.
Another scenario could be is that you've been training for awhile now and you want to add another gi to your rotation. Now you're thinking "I want a gi that fits me perfect". There begins the almost never ending hunt for the perfect gi. After years of training Brazilian Jiu Jitsu, and after trying on countless gis from different brands, I finally found the gis that fit me best. The truth is it will take a lot of trial and error. Depending on your body type, the perfect gi could be super easy for you to find, but it could also be difficult. In this article I want to try and give you a few tips that will hopefully bring you closer to finding the best gi for you.
Research the brand.
There are plenty of brands out there with quality gis. A quick google search, or a peep at their instagram page will give you a good idea of whether or not they are a reputable brand. One way to see if they're a good brand is by having a look at whether they have signed athletes, another way is to see how long they've been in the business of making gis. The longer they've been around, the better.
Check what sizes are available.
Gi models usually have a size chart. The size chart or size guide is a chart designed by the company to give people an idea of what size is best suited for them. Each gi brand has their own size guide, and at times the size guide can differ depending on the gi design or gi model. Keep in mind that these sizes aren't always totally accurate so if you have any doubts about what size to get, contact the shop or company you are buying from. Most gi companies follow the A0-A5 sizing. Companies such as Rebelz however have half sizes for the guys and gals who are in between sizes. Below you can see an example of the Rebelz Gold Standard Gi Size Guide.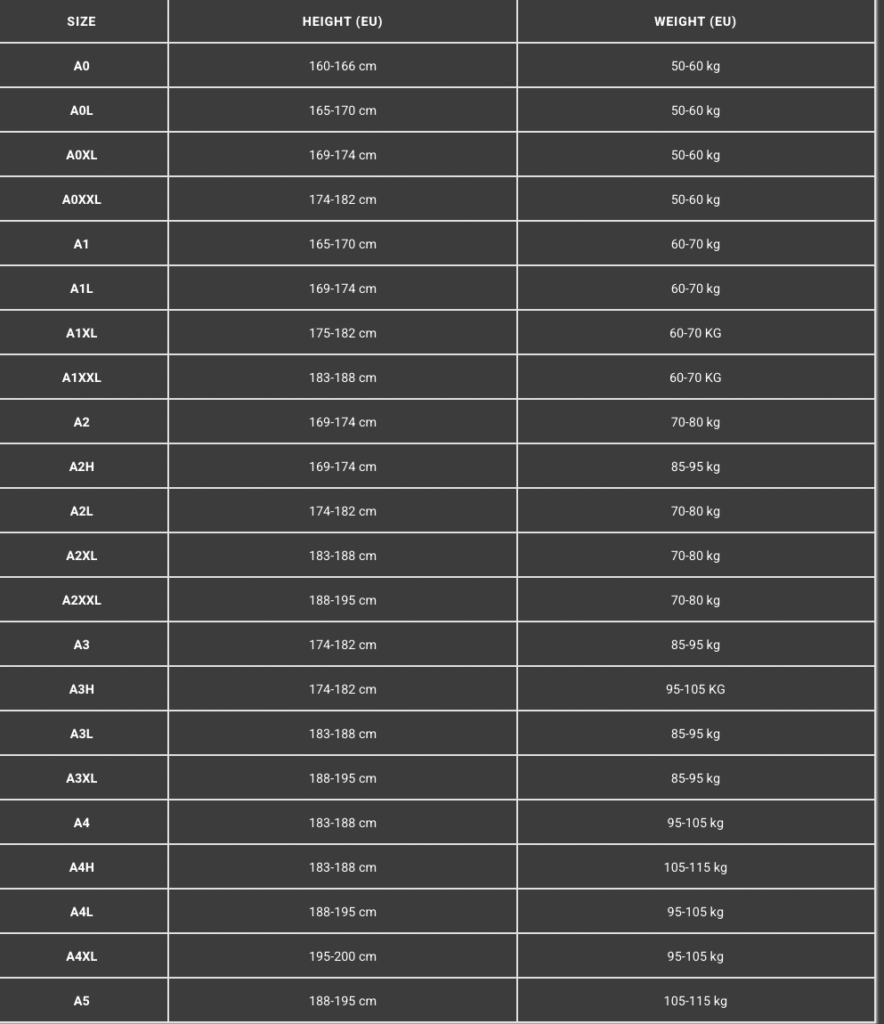 Always try out the gis if you can.
The truth is no matter how you follow the size chart, there is always a risk of it not fitting the way you like. As I said, at the end of the day what matters most is how comfortable you feel training in the gi. There are also guidelines on how a gi should fit so that your training partners can get their grips properly. These are things the size guide isn't able to address. So if you can, I would highly recommend to go to the store to try the gis on. If you can't do this, see if the store has a free return policy, if they do contact the store, and see which size they believe will suit you best. Try the gis on, and if they don't fit well, or if they don't fit the way you like then you can return them.
The variety of gis can be overwhelming.
Gis come in all sorts of colors, thickness, and cuts (The cut refers to how the gi is meant to fit a persons body.) If you plan on competing it would be good to know that some tournaments such as IBJJF only allow White, Blue, and Black gis. In terms of thickness, gis identify the thickness of the gi with the weight of the fabric used. This is referred to as grams per square meter or "GSM". Personally I prefer gis between 400- 500 GSM. I think hey are the perfect balance of durability and comfort. They are light enough to feel comfortable to move around in, but also thick and heavy enough to withstand hard training sessions. They do however tend to be warmer to wear compared to the lighter GSM gis. It is important to take note that as you sweat, the gi does get heavier as well.
Last but certainly not least important, how do they look?
If your academy allows you the freedom to wear whatever gi you want, then by all means have fun. You're gi will be your main piece of gear, in fact for Brazilian Jiu Jitsu athletes, it can be our only gear. Choose the design you like given that you can find a size you are comforable in. It's important to look good when you're training. When you look good, you feel good, and when you feel good, you are more likely to be in the best mindset to have fun and learn Brazilian Jiu Jitsu.
Below are photos of my Andrew's Personal Gi Collection as well as a few other Gis we are excited about!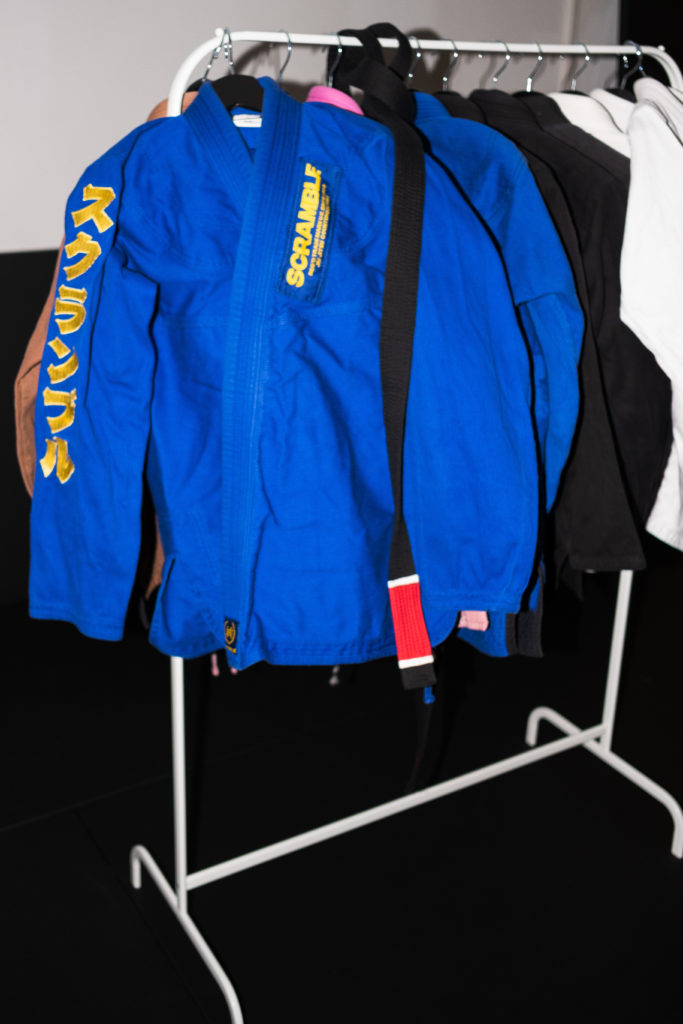 Gis Featured
Scramble BJJ Gi Makoto Blue
Rebelz Gold Standard 1.0
Rebelz Gold Standard 2.0
Hyperfly BJJ Gi JudoFly 2020
BLEND DOM Midnatt Gi
Scramble BJJ Varsity Gi