SISU Mouthguard Max purple
SISU Mouthguard Max purple. A mouthguard that offers great protection in a thin and comfortable size, only 2,4 mm. 50% stronger than normal mouthguards.
The SISU mouthguard is made of polymer, which is biocompatible and degradable. With this mouthguard you can drink and talk without having to remove it. Perfect for you on the lookout for a thin mouthguard that still keeps a high level of protection.
The man behind the mouthguard is Swedish ENT doctor Jan Åkervall. To protect his patients' teeth during oral cavity surgery, he and a few other dentists developed a thin, moldable mouthguard from a high-tech thermoplastic material. After thousands of operations and no tooth damage he realized the mouthguard should be introduced to athletes.
In order to mold, the mouthguard has to be heated up to at least 60°C for two minutes. You then press it up against your upper jaw and use your fingers to form it around the teeth. The plastic is perforated which makes for easier breathing with the mouthguard in, it is also possible to drink and talk with it. Additionally, tests have shown that SISU mouthguards have 30% better protection than conventional mouthguards. There are dentist-built mouthguards with an equally good fit and protection but they come at a much higher price.
The somewhat thinner mouthguard "Areo" (1,6 mm) is intended for sports such as wrestling, BJJ and basketball where hits to the mouth often come by accident. The somewhat thicker mouthguard "Max" (2,4 mm) is intended for sports such as boxing, MMA, and other full contact sports.
In the instruction manual of some mouthguards you may find an "expiry date". This date is related to dental insurance in the US and is NOT an expiry date for the actual mouthguard.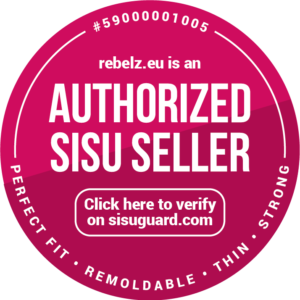 | PRODUCT | AGE |
| --- | --- |
| SISU MAX MOUTHGUARD | +11 year |
Only logged in customers who have purchased this product may leave a review.